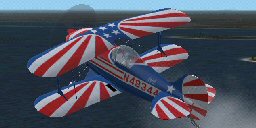 Installing Aircraft in
Microsoft's Flight Simulator X tm
Perhaps you have a library of aircraft in your Flight Simulator 2004 installation, and you'd like to use some of them in Flight Simulator X (FSX). Or maybe your wondering if the airplane you just downloaded will work in FSX? This article describes how to install aircraft in FSX. I'll be using Mikko Maliniemi's Pitts S-1S Special for FS2004 as an example.
The overall process looks like this:
Does the panel have a virtual cockpit?
Does the panel use any FS98 gauges?

Add cameras and other FSX specific lines
Modify the smoke system if necessary
Check that all effects files are installed and working

Replace/remove any FS98 gauges
Make sure the panel works
Setting Up FSX
By default, Flight Simulator is installed in C:\Program files\Microsoft Games\Microsoft Flight Simulator X, but you may have changed that when you installed FSX. For instance, I like to install FSX at C:\Flight Simulator X, which shortens the pathnames to the files and can help improve performance, especially if you use photoreal sceneries. It installs your configuration files in C:\Documents and settings\username\Application Data\Microsoft\FSX.
For aircraft installation, within the main program directory, there are at least 5 important directories you should know, which I'll go over in more detail later:
...\Microsoft Flight Simulator X
\SimObjects\Airplanes
\Effects
\Gauges
\Sound
\texture
And we are going to create one more directory to add to this mix
...\Microsoft Flight Simulator X
\Aircraft
The SimObjects\Airplanes directory contains directories that contain the flight model definition, model, instrument panel, and texture (paint) files for each aircraft. In FS2004 and before, the aircraft definition file directories were contained in the FS?\Aircraft directory. Up until FSX, this was the only directory that could contain these files. Now in FSX, you can put the aircraft definition files anywhere on your disks, as long as you tell FSX where to find the directories.
You tell FSX where to look for your aircraft in the fsx.cfg file, which is located with the rest of your configuration files. Since the aircraft definition files in the past were in the FS?\Aircraft directory, and many auto install programs depend on this path, I like to put my addon aircraft in FSX\Aircraft. To do this we must edit the FSX.cfg file.
Go to the C:\Documents and settings\username\Application Data\Microsoft\FSX directory and use a text editor (like notepad or wordpad) to edit the FSX.cfg file. Near the top of the file, in the [Main] section, look for some lines starting with
SimObjectPaths.x=xxx
Copy the last one of these lines, make sure to increment the x value to the next number, and change the path of this new line to "Aircraft". For example:
SimObjectPaths.6=Aircraft
Now go back to your FSX program directory and create a directory called Aircraft. This is the directory we'll be putting the airplane directories in.
Next Month: Checking if the panel will work in FSX